CAMOUFLAGE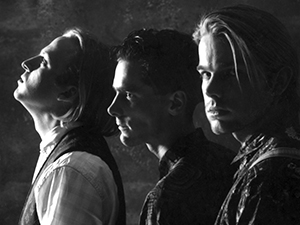 Founded in the southern German city of Bietigheim-Bissingen by Heiko Maile, Oliver Kreyssig and Marcus Meyn in the year 1984, the band Camouflage scored an unexpected international hit with their debut album "Voices & Images" in 1988. Their sophomore album "Methods Of Silence", released just a year later, was an even bigger success. Songs like "The Great Commandment" and "Love Is A Shield", went on to become perennial classics of the synth pop genre.
For the production of their third album "Meanwhile" Heiko Maile and Marcus Meyn (Oliver Kreyssig has left the band by then) were striking a new path. They recorded the songs with a band lineup with real drums, bass, guitar and keyboards.
To mark the 30th anniversary of the album, the band opened up the archives to assemble a special bonus edition including a wealth of rare and unreleased recordings, limited to 500 triple LP sets and 1,500 double CDs.
Read the "Meanwhile" info sheet (PDF) in
German
Read the "Meanwhile" info sheet (PDF) in
English
Download press kit
here