WHIRLPOOL PRODUCTIONS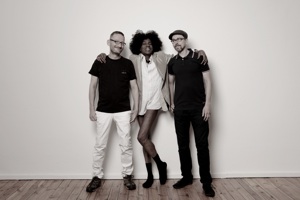 Whirlpool Productions is a house music project from Cologne by the musicians and producers Eric D. Clark, Justus Köhncke and Hans Nieswandt founded in 1991. Whirlpool Productions are known for their unique, experimental sound, that shaped the style of bands like Sensorama or Egoexpress. Their song "From Disco To Disco" was a huge success (number 1 for 9 weeks in Italy 1997). The musicians were also journalists in the old editorial staff of "Spex" music magazine, and therefore always interested in the theoretical side of their activity.
After a ten year hiatus Whirlpool Productions are back on the scene! Alongside the production of Hans Nieswandt's album of remixes of songs by the legendary German chansonniere Hildegard Knef, the most fortunate of circumstances has led to the new activities by Whirlpool Productions: They took on Knef's "Das ist Berlin".
This remix is flanked by Eric D. Clark's perspective on "Ich liebe euch," Justus Köhncke's rendition of "Und wenn ich wage dich zu lieben" and Hans Nieswandt's remix of "Ich schreib dir ein Buch".
Pressed in a limited vinyl edition, this may well be the prelude to more deeds to be instigated by these three meanwhile impeccably well ripened artists.
Hildegard Knef – remixed by Whirlpool Productions (release date: Sept 14th 2012)
BIO
Read the bio (PDF):
English
/
Deutsch
PRESS KIT
Download press kit
here