KOLLEKTION (V. A.)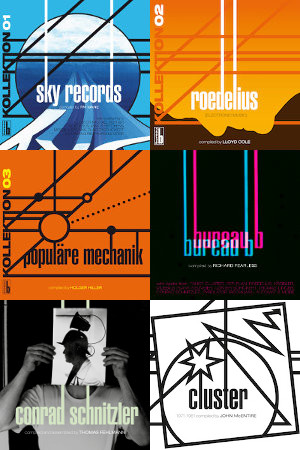 To provide an overview of the various musical styles in which Bureau B specializes, we release compilations entitled KOLLEKTION. Each release in this series has been/will be curated by a musician perfectly suited to the task.

Kollektion 06: CLUSTER
Compiled by JOHN MCENTIRE

Cluster's influence on the development of electronic music cannot be overstated. The original trio of Conrad Schnitzler, Hans-Joachim Roedelius and Dieter Moebius released two seminal albums as Kluster before Roedelius and Moebius replaced the K with a C and continued as a duo. They produced eight albums in their most innovative period between 1971 and 1981, two of them together with another pioneer of electronic music, Brian Eno.

Cluster anticipated much of what would later emerge in such varied styles as industrial, ambient, electro and even synthpop. Some call Cluster's music avant-garde, others Krautrock or Kosmische Musik. Few would dispute their immense influence on the music of younger generations, even though commercial success largely eluded them. Hence their first album, as a microcosm of their entire oeuvre, made the list of "100 Records That Set The World On Fire (While No One Was Listening)" in "The Wire" magazine, the ultimate purveyor of good taste.

About John McEntire: Drummer/percussionist; recording engineer/producer. Founding and current member of Tortoise and The Sea & Cake; former contributing/touring member of Red Krayola and Gastr Del Sol. Extensive international touring with these groups and many others. Recording/remixing projects include work with: Modest Mouse, Yo La Tengo, Broken Social Scene, Stereolab, Teenage Fanclub, Jaga Jazzist, The High Llamas, The Fiery Furnaces, Spoon, Blur, and hundreds more. As a member of Tortoise, numerous collabo­rations with artists such as Tom Zé, Daniel Lanois, Bonnie "Prince" Billy, Cluster, The Ex, Fred Anderson, and Mouse On Mars. Owner/operator of Soma Electronic Music Studios in Chicago, IL since 1995.

Asmus Tietchens on Cluster 71—81: >> Cluster's role in the development of new German electronic music went unnoticed for a long while. Cacophonous noise in the 1970s and 1980s masked the subtlety of Cluster aesthetics, diminishing their force of impact. Only since the 1990s, and all the more so today, have Cluster been identified and celebrated as pioneers. The somewhat hackneyed "avant-garde" tag really amounts to nothing more than being ahead of one's time. And those who are ahead of their time often slip out of sight. Now, twenty, thirty years later, with so many new aural experiences on offer, listening habits have changed to such a great extent that we are better placed to assess Cluster's importance, their influence on subsequent generations of musicians. It has thus become easier to appreciate and enjoy their music.

The eight (official) Cluster albums presented here trace the group's arc of development over a period of around ten years. Not a particularly extensive oeuvre compared to many of their peers, but prolificacy was never a feature of Cluster's constitution. They only released a new album when they felt that they had taken a significant step forwards on their musical trajectory—which goes some way to explaining how varied and different their LPs were. Cluster were no pedagogues, but their indirect influence on musicians and, more to the point, on listeners, resonates until today. Can a legacy be any more alive? <<

Read the info sheet (PDF) in English



Already released are:

Kollektion 05: CONRAD SCHNITZLER
Compiled by THOMAS FEHLMANN.

About the curator of this Kollektion: Thomas Fehlmann rose to prominence in the seminal band Palais Schaumburgwith Holger Hiller. Their debut album in 1981 was a milestone inGerman post-punk music. In 1988 Fehlmann founded the Teutonic Beats label and in 1990 he became a member of The Orb. He has played an important role in Berlin's electronic and club scenes ever since, as a musician, producer, remixer and DJ.

Thomas Fehlmann on this Kollektion:

So the question is, are we talking about a "mix" or what is the most accurate way to define this kind of compilation? If "mix" overreaches slightly, the fact remains that I have strung together various pieces from Conrad Schnitzler's white period - the CON series - in a seamless arrangement which creates its own state of dramatic tension. The tracks retain their original form and tempo. This is not a study in montage. I have restricted myself to picking the right moment to move from one piece to the next, cross-fading. Okay, I did edit one track. Mixing implies a deeper incursion into the source material, dismantling and reconstructing it in new combinations. I would have found that too crude a method when each individual piece carries its own unequivocal message. The sound is the sound of Conrad Schnitzler.

I was looking for a form which would condense Conrad Schnitzle's versatility, his inventiveness and wit into a single journey. The new running order adds a certain friction to the aura of each as new connections are made. My choices were musical, not chronological, bathing these works from the early 1980s in new sensuous light. It is quite remarkable to see how intensely the sparks still fly. Preparing this collection closes an elementary circle in my life, without which I may have followed a completely different path.

Read the info sheet (PDF) in English / Deutsch


Already released are:

Kollektion 04: BUREAU B
Compiled by RICHARD FEARLESS.

Release date: June 26, 2015

About the curator of this Kollektion: Richard Fearless is best known as the leader and founder of British band DEATH IN VEGAS. German electronic music can be heard as an influence on many of his albums—indeed even in his song titles, like "Sons of Rother". Fearless has worked with Iggy Pop, Bobby Gillespie, Paul Weller, Liam Gallagher and Hope Sandoval and has developed into a successful producer and remixer.

Richard Fearless on his modus operandi:

>> I always listen out for music with a sense a space; where compositions are stripped down to the barest components while retaining the power to conjure emotion. It's for this reason that I'm so drawn to dub, techno and German avant-garde minimalist music. To me the bands and labels in the Bureau B archive, current and past, were looking to distant lands, their own "Neuland", whether in the future with bands like YOU and Riechmann, or from a more remote past, like medieval folk band Ougenweide. They were creating something radical and experimental, something that didn't draw on the same rhythm and blues, Anglo-American rock that was saturating the airwaves at the time. They were pioneers in every sense of the word. <<

Read the info sheet (PDF) in English / Deutsch


Kollektion 03: POPULÄRE MECHANIK
Compiled by HOLGER HILLER.

Release date: Feb 20, 2015

Populäre Mechanik was a post-punk, jazz bastard project created by Wolfgang Seidel, friend and sometime musical partner of Conrad Schnitzler and founder member of Ton Steine Scherben. Our collection has been curated by Holger Hiller, best known as vocalist for Palais Schaumburg. Hiller presents tracks from two cassette productions which Seidel released in the early 1980s. The booklet features an interview which Hiller conducted with Seidel in which they discussed the function of rock and pop music over the past 45 years. Kollektion 03 has been released Feb 20, 2015.

Read the info sheet (PDF) in English / Deutsch


Kollektion 02: ROEDELIUS – ELECTRONIC MUSIC.
Compiled by LLOYD COLE.

Release date: Oct 26, 2014

This Kollektion was released on October 26, 2104 and was an official Hans-Joachim Roedelius 80th anniversary release! British songwriter Lloyd Cole has long since been a fan of Hans-Joachim Roedelius and Cluster. For convincing evidence, one need look no further than his 2001 album "Plastic Wood", a purely electronic opus which was an unambiguous homage to his musical idols. In 2013 Cole and Roedelius actually joined forces to release their "Selected Studies Vol. 1" album (BB 124). Cole presents his favourite synthesizer or organ pieces in our KOLLEKTION series.

Read the info sheet (PDF) in
English
/
Deutsch
Kollektion 01: SKY RECORDS.
Compiled by TIM GANE.
Release date: Sept 26, 2014
Sky Records was founded in the year 1975 and went on to become one of the few German labels to reap international acclaim. It was run by Günter Körber who quit his job at Metronome where he and Bruno Wendel had spent four years developing and managing the legendary BRAIN label.You can still call it Krautrock, if you must.
No less a figure than Tim Gane, the man behind Stereolab, has delved into the Sky Records archives for our KOLLEKTION series. Gane has never hidden his love of Krautrock; many a Sterolab song has its foundations in the typical "motorik" beat, whilst his latest band, Cavern Of Anti-Matter wallows in Klaus Dinger rhythms. Experimental sounds hold no fear for him, as early noise cassette releases under his Un-Kommuniti alias testify. His selection of tracks fits the pattern seamlessly: Asmus Tietchens, Cluster, Moebius, Roedelius, Michael Rother, Riechmann, Guünter Schickert etc. All names writ large in the avant-garde scene of German progressive music, as well as underlining Günter Körber's audacity in offering such music a forum with his label.
Read the info sheet (PDF) in
German
/
English
MUSIC
BUY
PICS
John McEntire (photo by Saverio Truglia).
Click for Hi-Res version
Thomas Fehlmann (photo by Malte Ludwigs).
Click for Hi-Res version
Richard Fearless (photo by Elaine Kin).
Click for Hi-Res version
Thomas Fehlmann (photo by Nicole Strasser).
Click for Hi-Res version
Roedelius/Cole (photo by Camillo Roedelius).
Click for Hi-Res version
Tim Gane (photo by Vanina Schmitt)
(Click for Hi-Res version)
Click for Hi-Res version
Click for Hi-Res version
Click for Hi-Res version
Click for Hi-Res version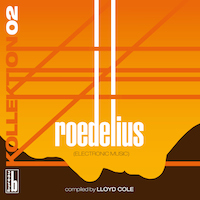 Click for Hi-Res version
Click for Hi-Res version