AUGUST 2014
"Flieg Vogel fliege" – Reissue of
Roedelius' fifth self-portrait out now
Musical sketches and ideas recorded by Roedelius between the years of 1973 and 1979 on a Revox tape machine in his living room. In contrast to the previous self-portraits, which he left untouched, Roedelius revised these recordings and embellished them with further tracks. Now and again, they even bear a resemblance to the character of the Cluster LP "Sowiesoso". Great stuff als always.
Read more here:
English
/
Deutsch
JULY 2014
ZIGURI = Kölsch, Schickert, Erdenreich
Debut after 27 years out now!
Ziguri is a project comprising Krautrock legend Günter Schickert, Udo Erdenreich and Dieter Kölsch. Active from 1987 to 1997, they reformed in 2011 and now, some 27 years later to be exact, present us with their first album. The music: hypnotic trance/Motorik/psychic rock-driving, monotonous beats and bass lines, overlain by floating patterns from Schickert's inimitable Echodrive guitar.
Read more here:
English
/
Deutsch
Free download from upcoming ZIGURI album
ZIGURIs debut album is going to be released on July 25th and
here's a free song called "Bella Hopp"
.
JUNE 2014
Moebius Story Leidecker
"Snowghost Pieces" out now
Dieter Moebius charted new "Krautronik" ground as one half of Cluster (with Hans-Joachim Roedelius) for many years. The Americans Tim Story and Jon Leidecker are two electronic musicians who could not be more different to one another. Story is known for his warm soundscapes whilst Leidecker has made an name for himself, or rather for his "Wobbly" pseudonym, with experimental adventures in sound. "Snowghost pieces" features harmonious, electronic improvisations of the highest order. Hypnotic rhythms embellished with sometimes bizarre, always surprising sounds and noises.
Read more here:
English
/
Deutsch
Avantgarde Festival
20–22 June 2014, Schiphorst (DE)
"Three days of utopia". From June 20th to June 22nd the 11th Avantgarde Festival will take place in Schiphorst, Germany. The Avantgarde Festival offers an ideal platform for artists to express themselves: excellent technical conditions, efficient organization, yet a relaxed atmosphere ... experiments, spontaneous collaborations and above all an attentive, knowledgeable and open minded audience.
More information on
www.avantgardefestival.de
.
Moebius Story Leidecker: Free downloads and video from new album
Dieter Moebius (one half of legendary "Krautronik" band Cluster) and the americans Tim Story and Jon Leidecker made an album together. Hypnotic rhythms embellished with sometimes bizarre, always surprising sounds and noises.
Here are two songs for free: a
download/stream of "Treadmill"
and the
video for "Defenestrate"
, produced by Kreidler's Detlef Weinrich.
More information:
www.bureau-b.de/msl.php
MAY 2014
Cluster's comeback album
"Apropos" (1990) out now
Cluster (Dieter Moebius, Hans-Joachim Roedelius) are considered pioneers of electronic music and key Krautrock protagonists. In the late 1960s, together with Konrad Schnitzler as the trio Kluster, they changed the world of music for ever with their radical improvisations. Having split from Schnitzler, Moebius and Roedelius continued as Cluster, releasing eight further milestones of electronic and ambient music up until 1981, two of them with Brian Eno. A hiatus lasting almost a decade was brought to an end in 1990 when Cluster made a surprise comeback with "Apropos Cluster". Our reissue is out on CD, heavy vinyl (180g) and for download.
Read more here:
English
/
Deutsch
KREIDLER video for "Alphabet" premiered on spex.de
Lior Shamriz produced a video for "Alphabet", taken from the new Kreidler album ABC. The video is now premiered on the
Spex website
.
"Alphabet (Single Edit)" is also available as free stream and download on our
Soundcloud account
.
KREIDLER – new album ABC out now!
2014 marks twenty years of
KREIDLER
. The band has outgrown adolescence, but remains juvenile, reckless, impetuous. They recorded their new album ABC in Tbilisi, Georgia. And there will also be a film – by Heinz Emigholz, who accompanied the last album DEN with film clips.
ABC
. Like TANK, it's two times three: Six tracks characterized by elliptical shifts, where suddenly the bass and drums take over the helm – or a choir appears.
Read more here:
English
/
Deutsch
Download press kit
here
APRIL 2014
Trailer for Heinz Emigholz' "2+2=22 (The Alphabet)" revealed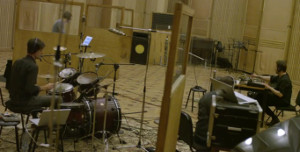 Heinz Emigholz was in Tiflis to shoot a film about the recording of the new Kreidler album. The trailer is now premiered on
spex.de
– the song you're hearing there is called "Modul" and is included on the upcoming Kreidler album ABC, out on Bureau B on May 2nd.
Tour dates (presented by Spex and ByteFM):
May 9th, 2014 // Cologne –
Achtbrücken Festival
@ Philharmonie
May 15th, 2014 // Nuremberg –
K4
May 16th, 2014 // Offenbach –
Hafen 2
May 17th, 2014 // Fulda –
Kulturzentrum Kreuz
May 24th, 2014 // Düsseldorf –
FFT
May 26th, 2014 // Stuttgart –
Schocken
May 28th, 2014 // Leipzig –
Täubchenthal
May 29th, 2014 // Bremen –
Theater Bremen
May 30th, 2014 // Hamburg –
Uebel & Gefährlich
May 31st, 2014 // Berlin –
Bi Nuu
Arbeit, Färber, zeitblom = AUTOMAT
Berlin record release party on April 18

Since 2011 the Berlin-based musicians Jochen Arbeit (Die Haut, Einstürzende Neubauten), Achim Färber (drummer for Project Pitchfork, Prag, Phillip Boa), and zeitblom (Sovetskoe Foto) have been collaborating under the name AUTOMAT. Their self titled debut album (out April 4th) tells the story of the four Berlin airports and is a dark dub/dance/groove masterpiece with guest appearances by Blixa Bargeld, Genesis Breyer P-Orridge, and Lydia Lunch.
To celebrate their debut album, AUTOMAT invite you to join their record release party on April 18 at Roter Salon Volksbühne, Berlin.
Read more about the album:
English
/
Deutsch
Download press kit
here
FEBRUARY 2014
PYROLATOR's "Traumland" out now!
Pop music by an avant-garde musician
Pyrolator (right) with Jörg Kemp and Susan Brackeens
The adventurous avant-garde musician Pyrolator (member of Der Plan, DAF, Fehlfarben and Ata Tak label founder) struck out on a completely new path for his fourth solo album in 1987: sophisticated pop music, potentially compatible with the charts – proper vocals, jazzy harmonies and sax solos. The album divided opinion: critics were enthralled, fans alienated. Time to rediscover this unusual work. In stores now on CD, vinyl (180g), and for download.
Read more here:
English
/
Deutsch
CAMOUFLAGE 10 CD box set out now!
Only few copies left!
Markus Meyn signing the picture book of the box set
In February 2014 Bureau B have released a limited Camouflage box set containing ten CDs, a picture book and a booklet with all lyrics. They are all numbered, signed and limited to 1000 copies.
The content includes:
• Voices & Images (newly remastered)
• Methods Of Silence (newly remastered)
• Meanwhile (newly remastered)
• Bodega Bohemia (newly remastered)
• Spice Crackers (newly remastered)
• Sensor (newly remastered)
• Relocated (newly remastered)
• Areu Areu (newly remastered)
• Archive #2 – Live Recordings
• Archive #3 – The Early Tapes 1983–1988
There are still some box sets left (not very man, though!), you can order them HERE
JANUARY 2014
Bureau B celebrates the 50th birthday
of Andreas Dorau
Three albums and two unique live events to celebrate the man who brought us tons of fantastic glittering pop songs. After re-releasing the first four of Dorau's albums he recorded for the Düsseldorf label Ata Tak between 1981 and 1992, Bureau B proudly presents: Andreas' brand new album AUS DER BIBLIOTHÈQUE (out Jan 17), a marvellous Best Of collection named HAUPTSACHE ICH! (out Jan 17) which features a limited rarities album (SILBERNES ICH). Furthermore, Andreas himself as well as some very special guests (DER PLAN, EGOTRONIC, JUSTUS KÖHNCKE) will perform two live shows, one in Hamburg (Jan 18, Knust) and one in Berlin (Jan 25, Bi Nuu). Read more about "Aus der Bibliothèque":
English
/
Deutsch
Download press kit
here
Read more about "Hauptsache Ich!":
English
/
Deutsch
Download press kit
here