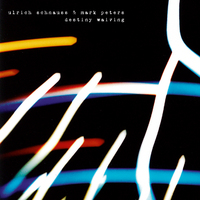 Click for Hi-Res version
ULRICH SCHNAUSS & MARK PETERS
Destiny Waiving. Out September 24, 2021
'Destiny Waiving' completes a collaborative trilogy that began with 2011's 'Underrated Silence' and followed by 2013's 'Tomorrow Is Another Day' (Schnauss also became a full time member of Engineers at this time). Initial sessions began at Ulrich's East London home studio in early 2017 and final mixes where completed there in late 2020. Despite it's extended conception, most tracks where completed during 2017, in part informed by improvisational sets in London, Dublin and St James' Church in Birmingham (as part of the Seventh Wave electronica festival).
Info (PDF):
english
/
deutsch
Pictures:
1
/
2
/
3
/
4
/
5
Download press kit
here
Click for Hi-Res version
NIKLAS WANDT
Solar Müsli. Out September 17, 2021
Drummer, percussionist, producer, radio journalist and DJ, Niklas Wandt's musical path can be traced back to his childhood, signposted by jazz and psychedelia. He has presented WDR 3's Jazz & World programme for a number of years, performed live and recorded albums with bands like Oracles and Stabil Elite. In 2018 Niklas Wandt and Wolf Müller released the highly acclaimed "Instrumentalmusik von der Mitte der World" album (on Growing Bin Records). Wandt also founded the synth-pop project Neuzeitliche Bodenbeläge with Joshua Gottmanns. Now, Niklas Wandt is about to release a quite astounding album under his own name on Bureau B. The full scope of influences gathered and absorbed over the years coalesce on Solar Müsli – all the pieces of the puzzle fall effortlessly into place. This is not formalism at work, but an exhilarating, freely flowing album which started out as an exercise in improvised percussion and developed into a multidimensional journey, at times both introverted and ebullient.
Info (PDF):
english
/
deutsch
Pictures:
1
/
2
/
3
/
4
Download press kit
here
Click for Hi-Res version
HARMONIOUS THELONIOUS
Instrumentals! (A Collection Of Outernational Music Studies). Out September 3, 2021
Since 2008 Harmonious Thelonious releases music, that unites Detroit techno districts, widescreen minimalistic structures and African rhythm patterns into a wide dynamic scale. All eight musical objects collected on "Instrumentals!" document a chapter in Harmonious Thelonious's work, that left the noisy background drones behind in favor for a signature sound full of echoes of ancient rituals and ecstatic ceremonies. Eight growing outlaw music studies crammed with living, deeply haunting entities. They all came to life in different cities like Berlin, Düsseldorf, Hamburg, London or Paris, first published on labels like Asafa, Disk, The Trilogy Tapes, or Versatile. United under one roof, they unfold their magical groove symbolism, notable hypnotic harmony and agitating rhythm archetypes in a total overpowering coalition.
Info (PDF):
english
/
deutsch
Pictures:
1
Download press kit
here