APRIL 2017
New KREIDLER album
"European Song" out now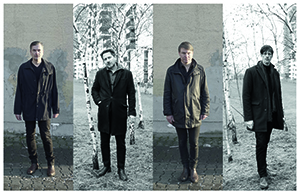 It was originally intended to be an entirely different album. KREIDLER had already completed a new LP just prior to recording "European Song". In their 23 years of existence, KREIDLER have often made music that might be described as "dystopian". And here we are today, faced with the much greater likelihood of all those nightmare scenarios becoming excruciatingly real. Suddenly KREIDLER'S previously intended new album felt wrong for this universe. The decision was made to make a NEW new record. Right away. And here it is. Available on vinyl and CD, downloadable and streamable.
Read more here:
English
/
German
MARCH 2017
Conrad Schnitzler & Pole:
"Con-Struct" out now!
After Pyrolator and Schneider TM it is now Pole who con-structed the third part of our Conrad Schnitzler series. Contrary to the original "Con-Struct" concept, it was his idea to do it half and half:
"50 percent sounds from Conrad and 50 percent from me. The collaboration went according to the following rules: I myself use four things – a modified old rhythm machine, two old synthesizers, and my modular system. From Schnitzler come four complex sounds, which are always run through a modular system. Coincidence should play an important role. Then i send everything through my mixer – for dubbing. It worked almost automatically. His sounds led and i joined in. It felt a little bit like we could understand each other. The two of us. I would have liked to have met him." DL/CD/LP out now.
Read more here:
English
/
German
Conrad Schnitzler & Pole "Con-Struct": new video online!
Material is taken from Conrad Schnitzler films "Zwölf Jahre Kur für Michelangelo", "Uper" and "Alptraumstrassen und Alpträume". 3 layers rhythmically intertwined and overlapped. Video created and edited by Pyrolator. Pole's "Con-Struct" will be out on March 24th.
KREIDLER on tour with new album "European Song"!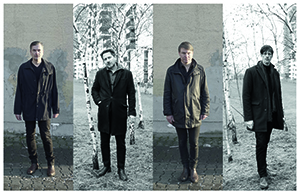 On April 7th we're releasing the new Kreidler album "European Song". Available on CD, LP, ltd golden LP and DL. Preorder is now available in our
online shop
.
Kreidler will be on tour with "European Song":
May 17, 2017 Leipzig (DE) –
Conne Island
May 18, 2017 Berlin (DE) –
Kantine am Berghain
Jun 1, 2017 Köln (DE) –
Kulturkirche Köln
Jun 2, 2017 Schorndorf (DE) –
Manufaktur Schorndorf
Jun 3, 2017 Offenbach (DE) –
Hafen 2
Jun 6, 2017 Bielefeld (DE) –
Geschwätz @ Kunsthalle Bielefeld
Jun 9, 2017 Belgrad (RS) –
Drugstore Beograd
Jun 10, 2017 Skopje (MK) –
Zdravo Mladi Festival
Oct 5, 2017 Hamburg (DE) –
Hafenklang
FEBRUARY 2017
ULAN BATOR "Stereolith" out now!
In today's increasingly barren rock and roll landscape, Ulan Bator stand as beacons of explorative songwriting. Formed in Paris in 1993 by Amaury Cambuzat (vocals, guitar and keyboards) and Olivier Manchion (Bass), the band's atmospheric approach to composition has consistently yielded guitar-driven avant-rock at once hypnotic and untamed. And while their sound has developed in a variety of directions – often in relationship to changing line-ups and various collaborations, including with krautrock legends Faust and Swans' Michael Gira – Ulan Bator's resist simple categorization: kraut-y repetition, post-rock guitar flourishes, kosmische synth work, intimate whispering and pounding drums have all taken an audible lead throughout their now twenty-year career. "Stereolith" is the first Ulan Bator release on Bureau B and is out now. Digital/CD/LP/ltd LP.
Read more here:
English
/
German
.
New ULAN BATOR video online!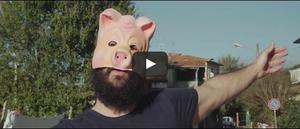 Here's a new track from the upcoming Ulan Bator album "Stereolith". Song is called "NeuNeu" and here's a short statement from the band:
"We are very happy to show you our new video, taken from our upcoming album Stereolith that will be released on Friday the 24th of February 2017 on label bureau b. NeuNeu is a wink to the Düsseldorf legendary band: Neu! but and above all, neuneu in French means: foolish or even simpleton. Going crazy, going simpleton, that's the basic meaning of this song.
This video has a deeper sense as we also wanted to show how our character could reach the freedom by returning to his origins. Lastly, I can swear you that we had a lot of fun shooting this video directed by Julien Perrin. I'm still asking myself how Maurizio the character actor made it! It was so cold in the forest that day...
To be seen from the beginning till the end.
Enjoy!
"
Two compilations with 1980's electronic cassette music. Out now.
"Sammlung – Elektronische Kassettenmusik Düsseldorf 1982-1989", compiled by Stefan Schneider (Kreidler, to rococo rot, Roedelius Schneider), is a collection of electronic productions that were created around cassette labels like Klar! 80 and record shops like Heartbeat and Pure Freude in Düsseldorf: includes tracks from artists like Konrad Kraft, Deux Baleines Blanches, Le Petit Mort and more... CD and LP are including linernotes by Oliver Tepel. MC version is limited to 100 copies. Out now on MC/CD/LP/DL.
"Magnetband – Experimenteller Elektronik-Underground DDR 1984–1989" focuses on East Germany. Inspired by Punk and Post Punk, with plenty of time and free of economic restraints (or rather possibilities), the protagonists – musicians, painters, poets, filmmakers, performers (often all at once) – often experimented with no regard to the final product. Back in 2006 Bert Papenfuß, Ronald Lippok, Bernd Jestram and Bo Kondren, compiled two companion CDs accompanying the long sold-out Zonic special edition book "Spannung. Leistung. Widerstand. Magnetbanduntergrund DDR 1979-1990" of which the more experimental-electronic pieces were chosen for our compilation. 14 tracks from artists like A. F. Moebius, Ornament & Verbrechen und Der Demokratische Konsum. CD and LP include linernotes by Alexander Pehlemann. MC is limited to 100 copies. Out now on MC/CD/LP/DL.
Read more about "Sammlung":
English
/
Germany
Read more about "Magnetband":
English
/
Germany
Schnitzler "Filmmusik 2" out now!

In the year 1975 Conrad Schnitzler recorded various pieces of music to accompany films which had yet to be made. Fittingly, he labelled this collection of songs "Filmmusik". The music is extraordinarily accessible for Schnitzler: hypnotic bass lines, stoic drum rhythms, dark drones, crystalline shards of melody. "Filmmusik 2" features five tracks from the 1975 recordings plus one 23 minute track called "Lichtpunkte und schwarze Zeichen", recorded in 1978 for Schnitzler's film project of the same name. Out on CD/LP/digital.
Read more here:
English
/
German
.
JANUARY 2017
New Richard Pinhas album "Reverse" out now!
Richard Pinhas recorded seven influential albums as the leader of French space-rock pioneers Heldon in the 70s. He also released five solo records before his six-year break from music in 1982. Since returning to the form in the 90s he has been prolific, collaborating with such luminaries as Merzbow, Yoshida Tatsuya, Oren Ambarchi, Barry Cleveland, and Wolf Eyes. "Reverse" is his first album on Bureau B and it's out now on CD/vinyl/digital
Read more here:
English
/
German
.
New soundtrack for "Metropolis"
by Dieter Moebius. Out now!
In 2012 Dieter Moebius (1944–2015) was invited to perform music to Fritz Lang's legendary silent film "Metropolis". For this purpose he produced pre-arranged tracks and samples to be treated with effects and combined during live improvisation according to the dramaturgical setting of the film. His impressive work reveals its full power and depth in combination with the images from the film. Out now: CD/vinyl/digital.
Read more here:
English
/
German
.
2016
,
2015
,
2014