FEBRUARY 2021
Camera release their fifth album "Prosthuman"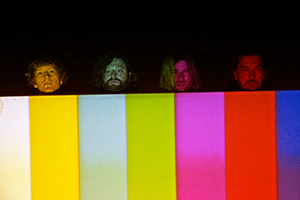 With the band's tenth anniversary in their viewfinder, CAMERA released their fifth studio album "Prosthuman". As befits an age in which realities can change in the blink of an eye, from one day to the next, the Berlin band never tire of changing themselves, their music or personnel. As Karlheinz Stockhausen noted: "New methods change the experience. New experiences change man." Taking this as their lead, Michael Drummer (the drummer) and CAMERA surprise us once more on "Prosthuman" as they reinvent and reformulate their sound without sacrificing the project's identity which has matured over the past decade. Less surprising is the fact that some record stores give CAMERA their own section, alongside Krautrock pioneers like NEU!, Can and La Düsseldorf. "Prosthuman" is out now on CD, LP, digital!
Info:
english
/
german
JANUARY 2021
Richard von der Schulenburg's album "Moods and Dances 2021" out now!
Out today: RVDS' new album "Moods and Dances 2021". Dreamy & meditative library greats taking you away to another dimension. Watch the new video "DX7's Broken Hearts" below!
Info:
english
/
german
Conrad Schnitzler – Paracon
In the late 1970s Peter Baumann invited Conrad Schnitzler into his Paragon Studios where they recorded the album Con. 10 unreleased outtakes from these sessions were now compiled into the album "Paracon (The Paragon Session Outtakes 1978-1979)". Thanks to Wolfgang Seidel, co-author of these pieces, who opened up his archive of recordings to Bureau B.
Info:
english
/
german
Conny Frischauf debut album "Die Drift" out on Bureau B!
Viennese artist Conny Frischauf's music is a whirl of Kraut, leftfield electronica and synth pop. She playfully shines a new light on on tradition to create a fresh, contemporary sound. Having released a brace of EPs – "Effekt & Emotion" (International Major Label, 2018) and "Affekt & Tradition" (Kame House, 2019) – Frischauf now presents her debut album, Die Drift. Out now!
Info:
english
/
german
Ja, Panik. Apocalypse Or Revolution.
The upcoming Ja, Panik "Die Gruppe", their first on Bureau B, will be released on April 30th. Please check out the video for the first single "Apocalypse Or Revolution" below!
FOLLOW US HERE







News archive:
2020
,
2019
,
2018
,
2017
,
2016
,
2015
,
2014