MARCH 2018
Milestone of French synth space rock:
First two HELDON albums reissued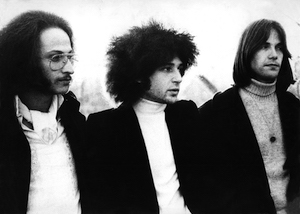 Heldon were the most important French electronic space rock musicians. The band were Richard Pinhas with a variety of guest musicians on different tracks. The debut "Electronique Guerilla" (1974) is a psychedelic sonic symbiosis of Pinhas' 1954 Gibson Les Paul and his EMS Synthi AKS. It even features a special guest appearance by the French philosopher Gilles Deleuze reciting Nietzsche! On the second album "Allez Téia" (1975) Pinhas has formed a duo with Georges Grunblatt. The music is a fanstastic interplay of feather-light acoustic guitars, Mellotron textures, fuzzy sounds and heavy, spherical synthesizers. Out now! CD/vinyl/download/stream
Read more about "Electronique Guerilla":
English
/
Deutsch
Read more about "Allez Téia":
English
/
Deutsch
Richard Pinhas and HELDON on tour:
Richard Pinhas + Kapital
April 12: Lodz (PL), Farbyka Sztuki
April 13: Warszawa (PL), Nina
April 14: Gdansk (PL), Klub Zak
April 15: Krakow (PL), Alchemia
Richard Pinhas solo
April 21: Bordeaux, location TBA
May 31: Red Bull Music Academy (with Stephen O'Malley)
HELDON (RP with Florian Tatard and Arthur Nancy)
April 18: Copenhagen (DK), Alice
July 14: London (UK), Cafe OTO
Station 17 vs. Bureau B artists
New album "Blick" out now

New production from the artist collective founded in 1990, comprising musicians with and without disabilities. Following releases on Mute, Mercury and What's So Funny About, this is their tenth album and their first on Bureau B. Guests: Jean-Hervé Peron and Zappi Diermaier from faUSt, Günter Schickert, Ulrich Schnauss, Pyrolator, Harald Grosskopf + Eberhard Kranemann, Andreas Dorau, Schneider TM, Andreas Spechtl and Datashock! CD/vinyl/stream/download available now.
Read more here:
English
/
German
FEBRUARY 2018
TYNDALL reissued for the first time!
"Sonnenlicht" + "Traumland" out now!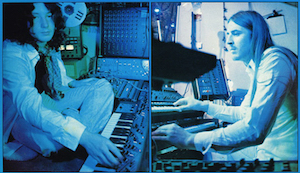 The two electronic sonic inventors Jürgen Krehan and Rudolf Langer founded Tyndall in the year 1980, naming their duo after a light scattering phenomenon in physics. Armed with an impressive array of instruments, devices and home-made synthesizers, they created free and easy electronic music in the style of the Berlin School (Berliner Schule), much to the liking of the legendary Sky Records who released their debut album "Sonnenlicht" in 1980. One year later they came up with the more experimental "Traumland". Bureau B releases the four albums Tyndall have recorded. "Sonnenlicht" and "Traumland" are out now. The other two will follow later this year. These sought after gems have never been reissued before! CD/vinyl/download/stream
Read more about "Sonnenlicht":
English
/
Deutsch
Read more about "Traumland":
English
/
Deutsch
R. Pinhas' "Rhizosphere" reissued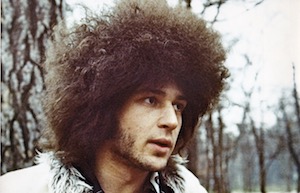 Richard Pinhas is one of the most important French electronic space rock musicians. Following five albums with HELDON, his band, Pinhas released his first solo record "Rhizosphere" in 1977. Backed by Heldon's congenial drummer Francois Auger but no longer bound by the group dynamic, he explores his freshly purchased Moog Modular system in search of new sounds. It marked a departure into new realms! CD/vinyl/stream/download available now.
Read more here:
English
/
German
New Station 17 album coming soon!
Watch the making-of trailer
JANUARY 2018
French electronic music unearthed:
FONDATION compilation out now
In the early 1980s, the French musical duo Fondation, comprising Ivan Coaquette and Anannka Raghel, released three tapes of fantastic electronic music which owed much to the experimentalism of the seventies. Synthesizer, organ, drum computer, solo guitar. Repetitive, meditative, hypnotic. Between ambient and synth pop.
"Les Cassettes 1980—1983"
presents a selection of their finest pieces.
FIRST TIME ON CD & VINYL!
Read more here:
English
/
German
FOLLOW US HERE







News archive:
2017
,
2016
,
2015
,
2014